Tell us a little about your company, Perch Charleston:
So, I'm an interior designer, but my business sort of has two sides:
First, I work for clients – and that spans everything from renovating their kitchens to furnishing their bedroom. A lot of clients bring me in to help design a kitchen, bathroom, laundry/mudroom (or whole house) remodel, and then I manage the project for them. I create a design for the cabinetry, finishes, paint, fixtures, lighting, and of course tile, and then typically I will take care of getting it all installed as well (plus everything in between – demo, framing, etc). A few clients prefer more of an e-design type service, in which case I create floorplans and design boards for them, and direct them where to source everything, then they take it from there. I also help with design, selections and furnishings for clients who are building new homes, of course!
The other thing I do is renovate homes with my husband. We usually do major renovations on the homes we buy, and for those I do everything from redesign the floor plans to designing each room, selecting the tile, all the fixtures, lighting, windows, paint, etc. We have contractors and subcontractors who actually execute the work for us. So, for example I work with Flooring Services LLC to select all the tile and the layouts, and then they install it for us.
What is your creative process when designing someone's home?
When designing for clients, I always start by gathering inspiration images from them. People are remarkably consistent in the things they are drawn to, and so if the same bathroom shows up several times on their pinterest board, that's a sign for me. I also ask them to fill out a questionnaire that asks about the way they live, as well as their personal style (what they wear, favorite seasons, etc.)
When designing for our flips (ie myself), I always find one jumping off point – usually, it's a tile I fall in love with, but sometimes it's an interesting kitchen cabinet color or piece of stone that sets the scheme for the entire house. I think it's very important to keep a consistent color story and style throughout a home – not that everything needs to be the same, but if it should all speak to each other – it should all make sense together.
How would you prioritize tasks for a renovation project?
First off, always get a good, thorough inspection so that you can address any major issues as you start opening up walls. You want all that done before you do anything cosmetic. Then figure out your layout/floorplan – what's working, what doesn't work in the current configuration, what's on your wish list if you can make it happen. Look at lots of inspiration for ideas – not just pinterest and instagram, where lots of things get recycled – look at magazines both regional and national, because they always try to show more innovative, different things than what you're seeing on social media. Then make your plan – the more you have selected before work even starts, the more cohesive your space will be. Pick your colors, cabinet style, tile, hardware, appliances – think through everything and work with a designer if you can to be sure that it all works well together. A well thought out design can really make all the difference.
Roundup a small list of your go to products and/or favorite stores:
I try to always mix it up, but for a kids' bathroom, penny tile is definitely a go-to. It's such a timeless look, yet always fun and fresh – plus there are lots of color possibilities. I love it for a kids' bath because there's a lot of grout, which means that it's not slippery when wet. I always work with Flooring Services for my tile, of course. Circa is great for lighting – most of their fixtures make an impact yet will never go out of style. For accessories when I'm styling a room, I'll usually make Celadon my first stop. And Zuma for vintage rugs – they're great to work with.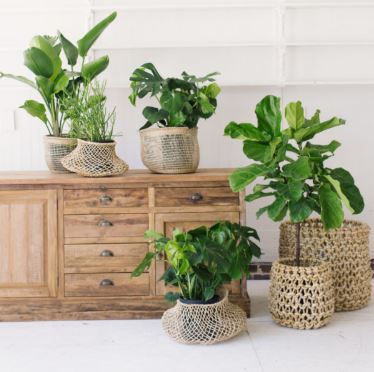 Are there any interior design styles you favor/dislike?
Style is so deeply personal – everyone has their preferences, and there are aspects of many different styles that I identify with. I think overall, I favor spaces that are current and incorporate certain trends, but remain completely timeless.
The spaces I love best are actually ones that mix a variety of design styles – places that are all starkly modern or extremely traditional aren't nearly as interesting to me as those that incorporate a mix– ornate moldings with more modern furniture, a vintage rug next to a sleek fireplace, an English roll arm sofa paired with a very angular metal frame chair, an antique chest with a contemporary lamp… I'm all about that mix.
Also, as much as an all-light palette looks beautiful on camera, I find it can often feel rather flat in real life. Contrast, tension, patina, and well-used color are always key to making your space feel authentic and alive.
What are some flooring trends that you are starting to see more of?
Everyone is doing light/natural wood floors right now. White Oak is everywhere – and for good reason, it's beautiful! But, the pendulim always swings the other way, so I suspect we will start to see things trend more medium/dark again in the next 3-5 years. We're already starting to see a resurgence of walnut for kitchen islands, which is so rich and lovely.
I do love all the porcelain mosaics we are starting to see. They give the wow factor of marble mosaics but at a much more affordable price point, and are easier to care for as well. Other big flooring trends I am seeing include black and white checkerboard floors, large format tiles (usually marble-look porcelain), and warmer tones throughout. I think limestone, travertine, slate and bluestone are going to start making a real comeback.
If you could design your dream home, what are 4 things that your home must have?
Great question! And tough! But if it had to be 4, I would say:
I'm all about natural light, so first and foremost LOTS of very large windows, ideally overlooking a fabulous marsh view.
A huge porch with a big outdoor fireplace
A fab scullery tucked behind an antique pantry door.
A tie between a copper tub from Waterworks and a La Cornue range (the ultimate luxury)
A quote that inspires you!: 
"The details are not the details, they make the design" – Charles Eames
"Be yourself; everyone else is already taken" – Oscar Wilde

Julie Belgraier and her husband
Website: https://www.perchcharleston.co/
Instagram: @perchcharleston